A one bed flat converted into a two bed home utilising the same footprint, with an array of bespoke joinery, and a strong connection with the rear garden.
Client — Private
Sector — Residential
Nature — Internal replanning, renovation + external landscaping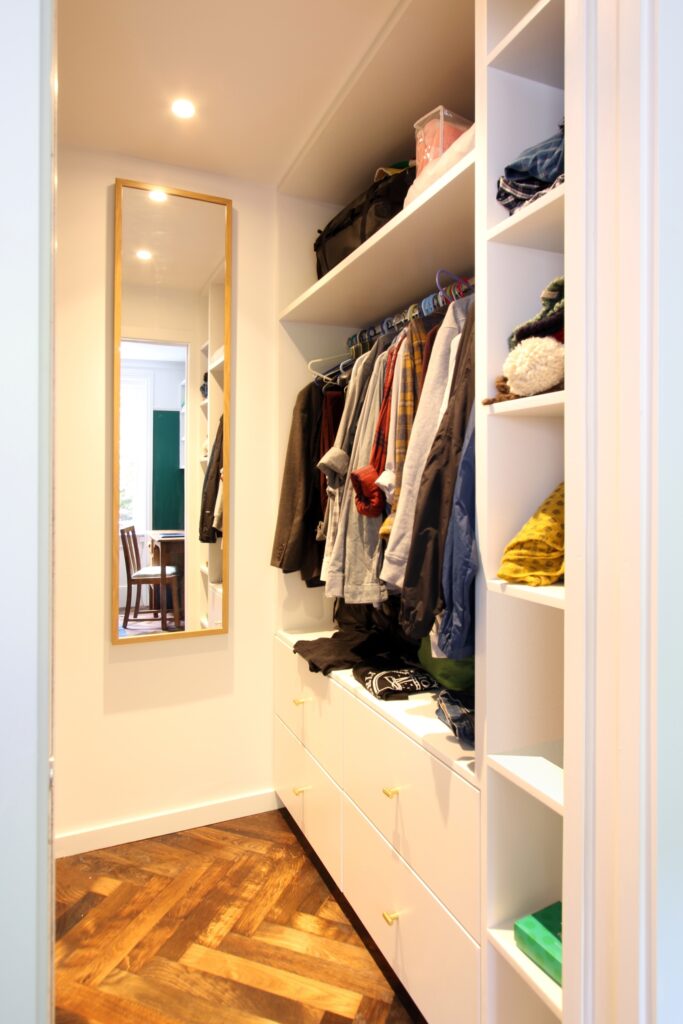 This Victorian basement flat sits within the Brockley conservation area.  The flat and garden have been fully refurbished and the flat converted from a one bed to a two bed home to accommodate a growing family.
The clients had considered adding a rear extension, but after spatial planning exercises we concluded that an extension was not necessary – that the footprint of the existing flat could provide the spaces they required.
One of the key aims of this project was to introduce more natural light to the flat.  This was achieved by pulling back the high level garden at the rear of the house and creating a courtyard garden.  Large glazed doors and windows were added to the rooms at the rear of the house to create beautiful naturally lit spaces, and a home that opens out to the garden. 
The colour palette of the flat was selected to reflect the colours of our client's illustrations.
Bespoke joinery was designed throughout the flat, including a walk in wardrobe to the master bedroom, a wardrobe in the second bedroom, cupboards along the wide hallway, and numerous bookshelves for the clients' collection of books and records.
Photography: Niki Borowiecki
We'd love to hear from you about your project
From extensive renovations to innovative new builds we are happy to talk no matter what the scale.